E-waste Management: 
Shivalik College of Engineering  has very efficient mechanism to dispose E wastes generated from various sources. E-wastes are generated from computer laboratories, electronic labs, Physics Labs, Chemistry Lab, Academic and Administrative Offices. The e-waste includes out of order equipments or obsolete items like lab instruments, circuits, desktops, laptops and accessories, printer, charging and network cables, Wi-fi devices, cartridges, sound systems, display units, UPS, Biometric Machine, scientific instruments etc. 
E-waste stored in a particular location in store for exchange offer or dispose off to minimum price.

All these wastes are put to optimal use. All such equipment's which cannot be reused or recycled is being disposed off through authorized vendors. 

Instead of a new procurement Buy-Back option is preferred for technology up gradation.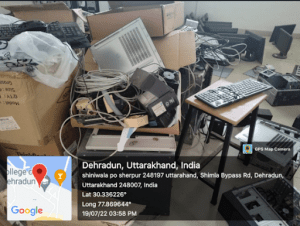 E-waste stored in a particular location in store for exchange offer or dispose off to minimum price
E-waste Invoice authorized vendors