Message from Head of Training & Placement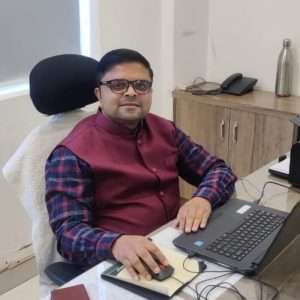 The Training and Placement Cell plays a vital role in providing various training programs both in-house and out-house – such as Summer Internships, Workshops, Seminars, Industry Visit, Personality Development Programs, etc. to imbibe in the students and make them acquainted with the corporate culture and the practical implication of the various theoretical subjects. Moreover, it helps in bridging up the gap between campus and corporate. The Training and Placement Cell maintains a close liaison with the Industry and other employers in order to facilitate the placement of the students. Moreover, the cell tries or arranges interaction of the students with professionals from industry regularly so as to provide them with firsthand knowledge of the industry. SCE has established Directorate of Training & Placement to cater the training needs of students and to connect the students with various eminent industries.
Over the past decade, Shivalik College has been recognized as an institution par excellence, dedicated to providing students with a strong scientific, technical and a holistic foundation that encourages them to be the initiators of creativity and seekers of solutions. It is arguably the Best College in Dehradun for Placements. We at Shivalik take pride in our unswerving commitment to producing qualified professionals and future leaders of the world. Our goal is to prepare our students for gratifying and outstanding careers and not just jobs and hence place immense focus on academic coursework and professor-student interactions that enable one's analytical framework to innovate optimal solutions to challenges.
Knowledge For Life, Skill For The Future
Shivalik College prides itself on being the most prominent and active institute with a highly efficient program policy with guaranteed placement assistance. The institute has consistently been ranked among the Top 10 Colleges With Highest Placement Salary records. With international accreditations and recognitions, Shivalik College is a highly sought after abode of learning, par excellence in all domains, be it teaching, research, holistic all round development, or career enhancement. The college has an efficient and resourceful Placement Cell with adept faculty members who work ceaselessly towards the development and grooming of students to get their first placement in fields of their study. The College sustains valuable relationships with leading Indian andMultinational Companies. Each student undergoes rigorous and arduous placement training sessions throughout the year wherein they are taught how to advance and strengthen their quantitative and qualitative aptitudes, improve their logical and analytical reasoning capability, and expand their verbal communication and reading comprehension skills. A typical 'SCEian' is expected to play a critical role in leading organisations that they proudly will become part of.
Shivalik College has always been ahead of the curve. The campus hosts over 350 reputed companies from all over the world, seeking to recruit the best talents, and today we have over 3500 successful alumni situated across the world. Each year, Shivalik College betters its own placement record set the previous year, with INR 30 LPA being the highest package offered by Google in the year 2020. The college proudly outperforms the standards set by itself the year before and has established itself as the College with the Best Placement record.
We've gone from strength to strength with our Placement Cell Initiatives, which includes:
Career Development Services (CDS)
Guest Lecture & Talk Sessions
Seminars & Workshops
Career Counselling
Internship opportunities
State of the Art Incubation Centre
Entrepreneurship Development Cell in collaboration with Min of Skill Dev, GOI
IBM Systems Centre Of Excellence
Dell EMC CeNTRE Of Excellence
BMW Engine initiative for Shivalik lab
With all the above efforts, Shivalik is able to host reputed companies for their annual placement season namely Google, Amazon, Capgemini, Honeywellś Bajaj, Byjus, Extramarks, HCL, IBM, Luminous, Infosys, TCS, OLA, Wipro, to name a few.
Dr Dinesh Yadav:
Mr Mithun: