Student Centric Method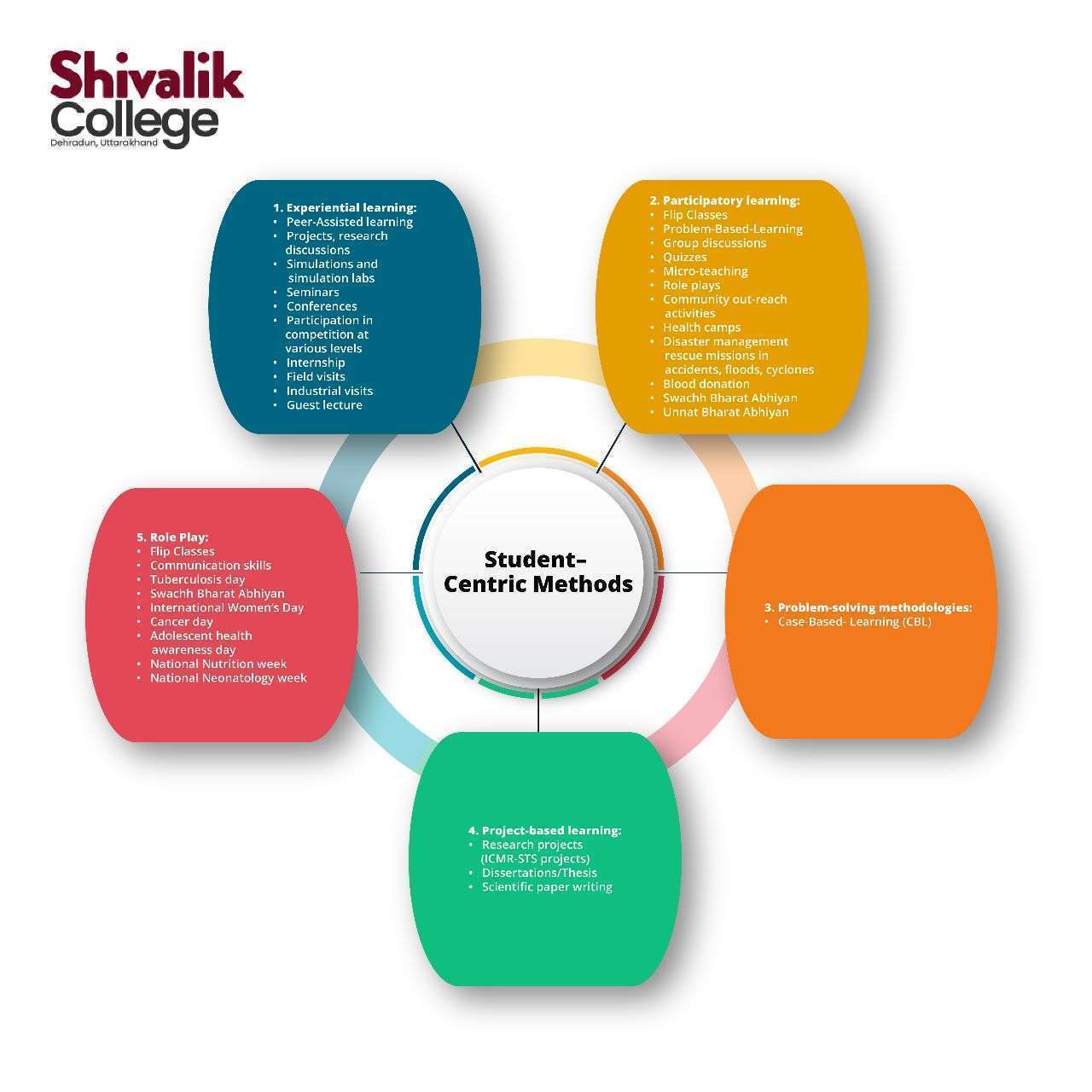 Student Centric Methods
Teaching and learning is a process that includes many variables. These variables interact as learners work toward their goals and incorporate new knowledge, behaviors, and skills that add to their range of learning experiences.
Student-Centered Learning: It Starts With the Teacher. Teachers encourage student-centered learning by allowing students to share in decisions, believing in their capacity to lead, and remembering how it feels to learn.
Learner-centered teaching does not employ a single teaching method. Emphasizes a variety of methods that shift the role of the Teachers from givers of information to facilitators of student learning.
Difference between Teacher-Centered and Student-Centered Approach
| | | |
| --- | --- | --- |
| Elements | Teacher-Centered | Student-Centered |
| Knowledge | Transmitted from Instructor | Constructed by Students |
| Student Participation | Passive | Active |
| Role of Teacher | Leader | Facilitator |
| Role of Assessment | Few tests, Mainly for Grading | Many Tests, for continuous evaluation |
| Emphasis | Learning Correct Answers | Developing Deeper Understanding |
| Assessment Method | One-Dimensional | Multi Dimensional |
| Academic Culture | Competitive | Collaborative, Supportive |

Student-Centric Methods Adopted at Shivalik
Experiential learning
Peer-Assisted learning
Projects, research discussions
Simulations and simulation labs
Seminars
Conferences
Participation in competition at various levels
Internship
Field visits
Industrial visits
Guest lecture
Participatory learning
Flip Classes
Problem-Based-Learning
Group discussions
Quizzes
Micro-teaching
Role plays
Community out-reach activities
Health camps
Disaster management rescue missions in accidents, floods, cyclones
Blood donation
Swachh Bharat Abhiyan
Unnat Bharat Abhiyan
Problem-solving methodologies:
Case-Based- Learning (CBL)
Project-based learning
Research projects (ICMR-STS projects)
Dissertations/Thesis
Scientific paper writing
Role Play
Flip Classes
Communication skills
Tuberculosis day
Swachh Bharat Abhiyan
International Women's Day
Cancer day
Adolescent health awareness day
National Nutrition week
National Neonatology week